Spring Vegetable Salad with Smoked Fish and Egg
Spring Vegetable Salad with Smoked Fish and Egg and Eggplant Salad with Halloumi
Delightful summer salads with spring vegetables such as asparagus and new
potatoes go really well with smoked fish. The salad is also delicious when
topped with smoked shrimp.
4 portions
2 eggs
½ lb (250 g) green asparagus
½ lb (200 g) boiled new potatoes, cooled
1 red onion
1 bunch of radishes
½ cucumber
1 small head iceberg lettuce
⅔–¾ lb (300–400 g) cleaned whitefish, kippers, or mackerel
¼ cup (50 ml) chopped dill
Dressing
3 tbsp cold-pressed canola oil
2 tbsp freshly squeezed lemon juice
1 tbsp shredded horseradish
sea salt flakes
1. Begin by mixing together the ingredients for the dressing.
2. Boil the eggs for approximately 6 minutes. The yolk should preferably be
left creamy. Rinse in cold water and slice the egg neatly in half.
3. Cut away the coarse lower portion of the asparagus. Boil it until tender
in lightly salted water for about 5 minutes. Cool the asparagus in cold
water.
4. Cut the asparagus in half and cut the potatoes into smaller pieces. Thinly
slice the onion and radishes. Roughly peel the cucumber. Cut it lengthwise,
scrape out the seeds, and cut into slices. Tear the lettuce into smaller
pieces.
5. Mix together lettuce, potatoes, and vegetables. Drizzle with dressing and
toss together. Lay the fish and eggs on top, and garnish with dill.


Eggplant Salad with Halloumi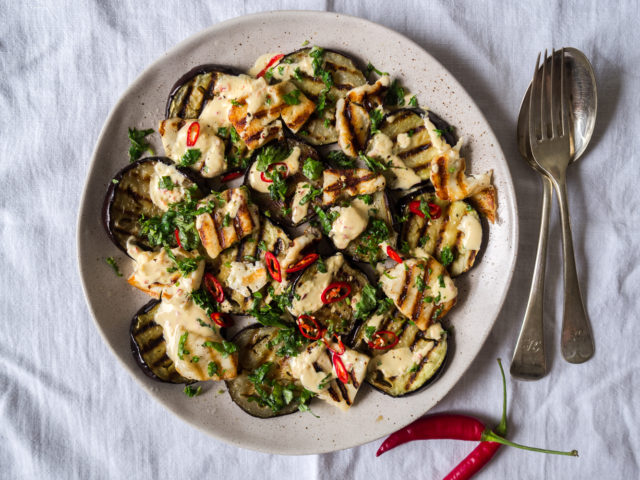 Spring Vegetable Salad with Smoked Fish and Egg and Eggplant Salad with Halloumi
A filling salad that elicits thoughts of warm Mediterranean evenings. I top
the salad with grilled halloumi and eat it as an entrée; however, the salad is
also an outstanding accompaniment to grilled lamb or chicken.
4 portions
¼ cup (50 ml) pine nuts
5 tomatoes
1 eggplant
1 squash
3 garlic cloves
14 oz (400 g) wheat berries
olive oil for frying
½ lemon, zest
sea salt flakes
freshly ground pepper
approx. 2 oz (50 g) arugula
approx. 10½ oz (300 g) halloumi
1. Roast the pine nuts in a dry pan.
2. Cut the tomatoes, eggplant, and squash into cubes. Peel and chop the
garlic. Rinse the wheat berries and let drain.
3. Fry the eggplant, squash, and garlic in olive oil until the vegetables are
tender. Fold in tomatoes, wheat berries, and lemon zest and fry an
additional few minutes. Add salt and pepper to taste.
4. Add the arugula just before serving and garnish with nuts.
5. Cut the cheese into slices and fry both sides quickly in olive oil. Serve the
cheese fresh out of the pan with the warm salad.